So You Want to Work for a Nonprofit?
How a casualty of Bear Stearns traded Wall Street for the do-good life.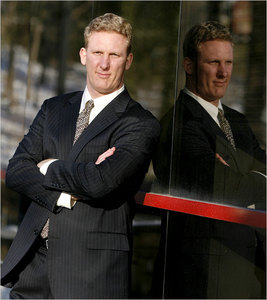 BY CECILIA CAPUZZI SIMON, The New York Times, April 19, 2009 >>
On Friday, March 14, 2008, Kip Schaefer was at his job at Bear Stearns, fielding call after call from agitated investors who, in one cataclysmic day, canceled billions of dollars in trades, creating a run on the nation's fifth-largest investment bank and shuttering it by weekend's end. Mr. Schaefer, who worked at the firm for 12 years, likened the trauma of that day to the death of a family member.
It may have paled compared to the 11 months that followed. In that time he: lost his job, had a third child, sold two homes, went on 20 job interviews, completed a master's degree in fund-raising from New York University, moved his family to a new town, bought and renovated a home, and started a new career.